New style small NEMA 8 stepper motor for sale, 24V rated voltage, 0.5 rated current, 1.8 degree step angle, 0.18kg-cm / 0.25kg-cm (2.6oz-in / 3.5oz-in) holding torque per phase, 20*20mm rectangle body, 14.4mm long and 4mm diameter drive shaft. Suitable for industrial automation, robotics, textile and medical industries.
Specification
Electrical Specification
Model
P-20HS30-0504A
P-20HS42-0504A
Step Angle
1.8°
1.8°
Voltage
24V
24V
Rated Current/phase
0.5A
0.5A
Phase Resistance
4.8Ω
7.5Ω
Inductance
1.3mH
2.4mH
Holding Torque
0.18kg-cm (2.6oz-in)
0.25kg-cm (3.5oz-in)
Rotor Inertia
2.5g-cm

2

4.5g-cm

2

Physical Specification
Length
30mm
42mm
Frame Size
20 x 20mm
20 x 20mm
Motor Leads
4
4
Motor Weight
50g
50g
Electrical Performance
Step Accuracy
±5%
±5%
Temperature Rise
80℃ Max.
80℃ Max.
Ambient Temperature
-10℃~+50℃
-10℃~+50℃
Insulation Resistance
100MΩ Min. 500VDC
100MΩ Min. 500VDC
Dielectric Strength
500VAC 1Min.
500VAC 1Min.
Nema 8 Stepper Motor Dimension (Unit=mm)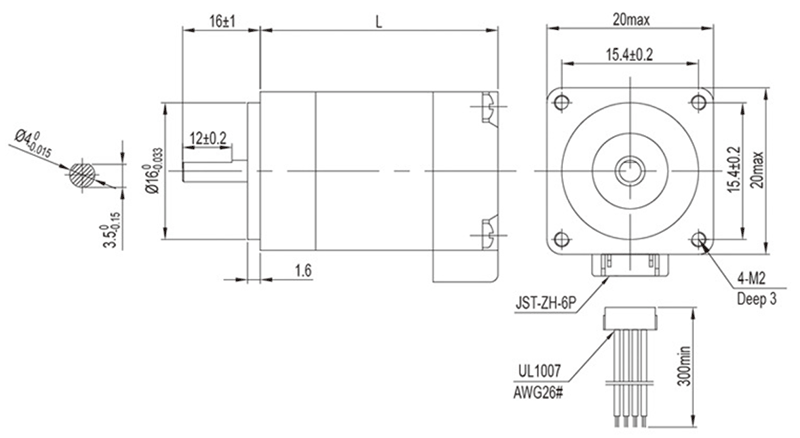 Nema 8 Stepper Motor Wiring Diagram

KNOWLEDGE BASE --- Advantages and Disadvantages of Stepper Motor
Advantages:
1. The rotation angle of stepper motor is proportional to the input pulse.2. When the windings are energized, the motor torque is in a completely static state.
3. Since the accuracy of a good stepper motor is 3%-5%, the error will not be accumulated from one step to the next, the stepper motor can accurately position and repeatedly move.
4. Stepper motor has excellent response to start/stop/reverse.
5. Because there is no contact with the brush on the stepper motor, it is very reliable. The service life of the stepper motor depends only on the life of the bearing.
6. The motor's response to the digital input pulse provides open-loop control, which enables the motor to be controlled more simply and at low cost.
7. The load is directly coupled to the shaft, which can achieve synchronous rotation at very low speeds.
8. When the speed is proportional to the frequency of the input pulse, a wider range of rotation speed can be achieved.
Disadvantages:
1. Resonance may occur if it is not properly controlled.
2. If the speed is too fast, it is difficult to operate.
Open-loop control:
One of the most remarkable advantages of the stepper motor is that it can be precisely controlled in an open-loop system. Open-loop control means that feedback about position is not required. This type of control doesn't need expensive sensing and feedback devices, such as optical encoders. Simply enter step pulse tracking to know the moment.