Welcome to Peaco Support page "How to place orders at our website". Here are the procetures of buying products on peacosupport.com.
Let's take buying a 250 hp (185 kW) soft starter as an example as shown in the figures below.
Step 1. Enter the product on poduct page, select every parameter in drop-down lists according to your needs.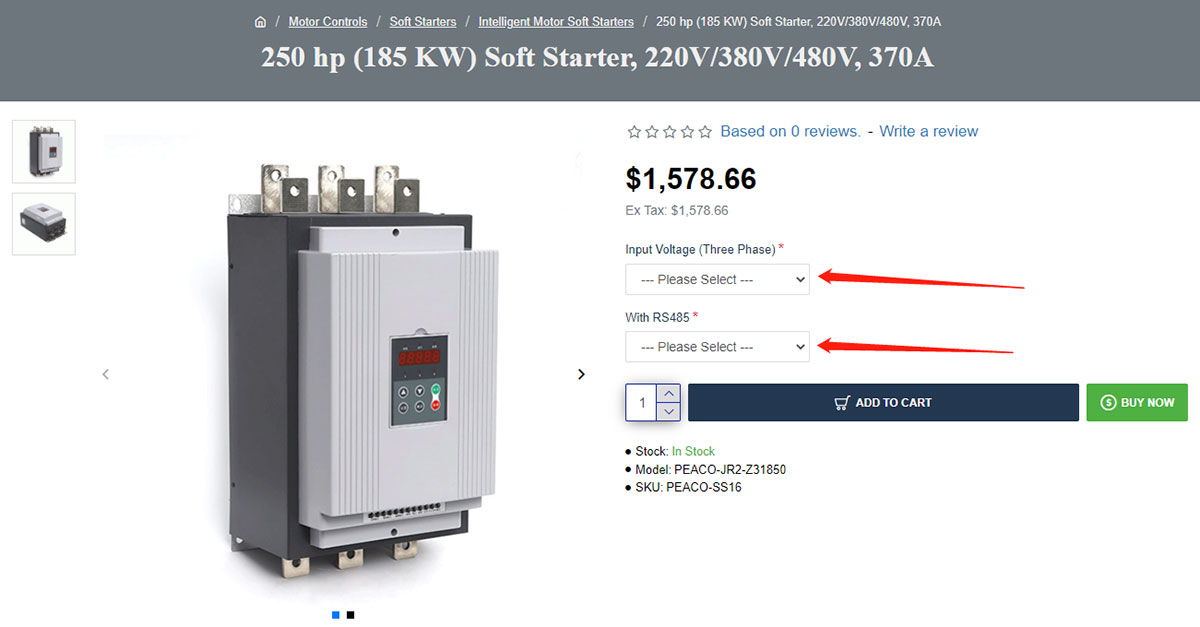 Step 2. Click ADD TO CART then you will see your goods in the cart. Or you can click BUY NOW to reach Quick Checkout page directly.
Step 3. Put your mouse pointer on the cart mark and click VIEW CART or CHECKOUT to reach Quick Checkout page directly.
Step 4. Check all the product information added in the box and proceed to click CHECKOUT.
Step 5. On the Quick Checkout page, you can register as a new user or a guest to fill your personal details and billing/ shipping details. You can login directly if you have registered before.
Step 6. After entering the details, please check privacy policy and term and condition, then click CONFIRM ORDER.
Step 7. If you have PayPal account, you can login and pay through it.
If you do not have PayPal account, please click at credit and debit card, then fill the details and pay.
You may also pay via bank transfer. Please contact us for transaction details.