120 hp soft starter with three phase 240V, 380V, 400V, 480V, 690V, 180A of rated current, controls voltage and current to provide smooth acceleration as well as deceleration for a standard AC induction motor. Reliable supplier offers CE certified quality and good price for the electronic soft starter.
Specification
Product Name
Intelligent Motor Soft Starter
Model
PEACO-ZJR2-3900
Capacity
120 hp (90 KW)
Current
180A
Input
Voltage*
Three phase 220V, 240V, 380V, 400V, 415V, 440V, 460V, 480V, 690V
Frequency
50Hz/ 60Hz
Adaptive Motor
Squirrel-cage three-phase asynchronous motor
Starting Times
It is recommended not to exceed 20 times per hour.
Control Mode
1) Operation panel control.
2) Operation panel + external control.
3) External control.
4) External control + COM control.
5) Operation panel + external + COM control.
6) Operation panel + COM control.
7) COM control.
8) No start or stop operation.
Start Mode
1) Current-limiting to start.
2) Voltage ramp to start.
3) Torque control + current-limiting to start.
4) Torque control + voltage ramp to start.
5) Current ramp to start.
6) Voltage current-limiting double closed-loop start.
Stop Mode
1) Soft stop. 2) Free stop.
Protective Function
1) Open loop protection for external instantaneous stop terminals.
2) Over-heat protection for soft starter.
3) Protection for too long starting time.
4) Input open phase protection.
5) Output open phase protection.
6) Unbalanced three-phase protection.
7) Starting over current protection.
8) Running overload protection.
9) Under voltage protection for power voltage.
10) Overvoltage protection for power voltage.
11) Protection for fault parameter setting of the soft starter.
12) Load short circuit protection.
13) Auto restart or incorrect wiring protection.
14) Incorrect wiring protection of external control stop terminals.
Ambient
Place to be used
Indoor location with good ventilation free from corrosive gas and conductive dust.
Altitude
Below 1000M. It has to increase the soft starter rate power when the altitude is more than 1000M.
Temperature
-30℃~+55℃
Humidity
≤90%RH without dew condensation.
Vibration
<0.5G
Structure
Enclosure
IP 20
Cooling
Natural wind cooling.
Certification
CE, ISO9001
Warranty
12 months
Outline Dimension (W1*H1*D)
260*530*200mm
Installation Dimension(W2*H2*d)
235*380*M8
Weight
25 kg
Note:
This model of soft starter is without bypass, you need to connect external AC contactor. If you want the soft starter with built-in bypass where there is a AC contactor inside, please visit here
120 hp (90 kW) Soft Starter with Built-in AC Contactor
.
Softer Starter Outline & Installation Dimension (Unit: mm)
Soft Start Wiring Diagram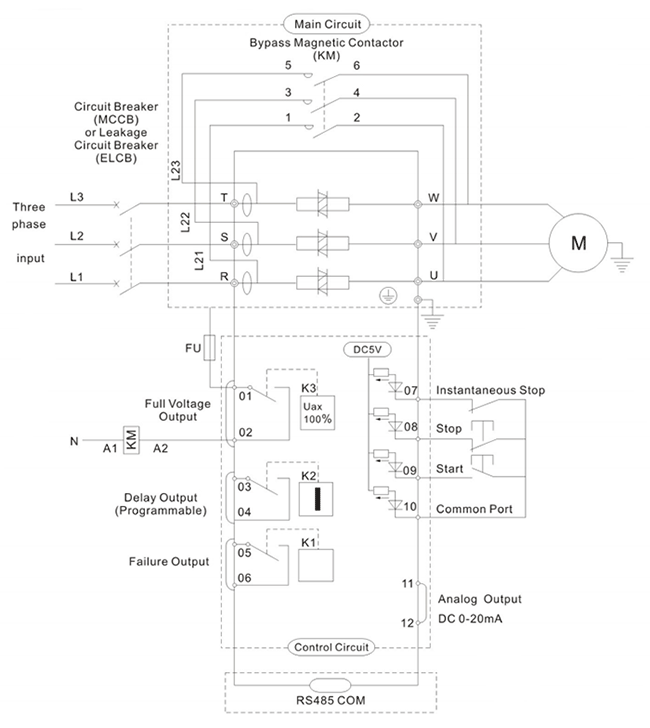 KNOWLEDGE BASE ---
Working Principle of Soft Starter
The soft starter uses a three-phase parallel thyristor as a voltage regulator, which is connected between the power supply and the motor stator. Such a circuit is a three-phase fully controlled bridge rectifier circuit.
When the 3 phase soft starter is used to start the motor, the output voltage of the thyristor gradually increases, and the motor gradually accelerates until the thyristor is fully turned on. The motor works according to the mechanical characteristics of the rated voltage to achieve a smooth start, reduce the start current and avoid starting over-current tripping.
When the motor achieves the rated RPM, the start-up process ends, and the soft starter automatically replaces the thyristor that has completed the task with a bypass contactor to provide the rated voltage for the normal operation of the motor, thereby reducing the heat loss of the thyristor and prolonging the service life of soft starter, enhancing its working efficiency, and preventing the grid from harmonic pollution.
The motor soft starter also provides a soft stop function. The soft stop is the opposite of the soft start. The voltage gradually decreases and the revolutions gradually drops to zero to avoid the torque impact caused by the free stop.