7.5 hp soft starter with intelligent functions features 50Hz/ 60Hz frequency, three phase 220V, 240V, 380V, 400V, 460V, 480V input voltages. Best AC motor soft starter used for soft start, soft stop, reversing and protecting 3 phase asynchronous motors.
Soft Starter User Manual
:
Peaco Support soft starter user manual.pdf
Features
Smart start. The intelligent motor soft starter comes with various startup modes, including limited current startup mode, voltage ramp startup mode, sudden start mode, current ramp startup and voltage current limiting double closed-loop startup.
Multifunctional operation panel. LCD display for soft starter displays parameters intuitively, easy to operate.
High continuity terminals. Reliable soft starter features high-conductivity terminals made of quality and thickened material and good electrical conductivity is available.
Powerful cooling. The motor soft starter provides effective heat dissipation protection so as to quickly reduce the operating temperature.
Multiple protections in one machine. Smart motor soft starter is available with overcurrent, overload, overheat, low voltage, high voltage, load short circuit, output phase loss, input phase loss, three-phase unbalance protections.
High and low temperature resistance. Soft starter is made of industrial grade ABS plastics with high impact resistance, high heat resistance, stable and good performance.
Specification

Product Name
Smart Motor Soft Starter
Model
PEACO-ZJR2-3055
Capacity
7.5 hp (5.5KW)
Current
11A at 380V
Input
Voltage*
Three phase 220V, 240V, 380V, 400V, 415V, 440V, 460V, 480V, 690V
Frequency
50Hz/ 60Hz
Adaptive Motor
Squirrel-cage three-phase asynchronous motor
Starting Times
It is recommended not to exceed 20 times per hour.
Control Mode
1) Operation panel control.
2) Operation panel + external control.
3) External control.
4) External control + COM control.
5) Operation panel + external + COM control.
6) Operation panel + COM control.
7) COM control.
8) No start or stop operation.
Start Mode
1) Current-limiting to start.
2) Voltage ramp to start.
3) Torque control + current-limiting to start.
4) Torque control + voltage ramp to start.
5) Current ramp to start.
6) Voltage current-limiting double closed-loop start.
Stop Mode
1) Soft stop. 2) Free stop.
Protective Function
1) Open loop protection for external instantaneous stop terminals.
2) Over-heat protection for soft starter.
3) Protection for too long starting time.
4) Input open phase protection.
5) Output open phase protection.
6) Unbalanced three-phase protection.
7) Starting over current protection.
8) Running overload protection.
9) Under voltage protection for power voltage.
10) Overvoltage protection for power voltage.
11) Protection for fault parameter setting of the soft starter.
12) Load short circuit protection.
13) Auto restart or incorrect wiring protection.
14) Incorrect wiring protection of external control stop terminals.
Ambient
Place to be used
Indoor location with good ventilation free from corrosive gas and conductive dust.
Altitude
Below 1000M. It has to increase the soft starter rate power when the altitude is more than 1000M.
Temperature
-30℃~+55℃
Humidity
≤90%RH without dew condensation.
Vibration
<0.5G
Structure
Enclosure
IP20
Cooling
Natural wind cooling.
Certification
CE, ISO9001
Warranty
12 months
Outline Dimension (W1*H1*D)
145*270*160mm
Installation Dimension(W2*H2*d)
130*245*M6
Weight
3.5 kg
Note: This model of soft starter is without bypass, you need to connect external AC contactor. If you want the soft starter with built-in bypass where there is a AC contactor inside, please visit here 7.5 hp (5.5KW) Soft Starter with Built-in AC Contactor.
Softer Starter Outline & Installation Dimension (Unit: mm)
Soft Start Wiring Diagram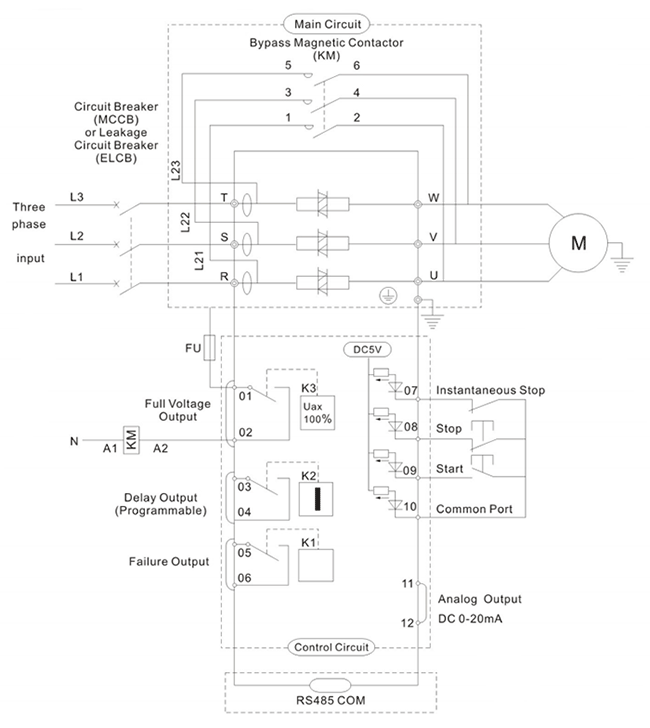 Soft Starter Details
Simple control panel. The control panel can be removed to clean, easy to operate, real-time data display on LCD screen.
Smart mainboard. Soft starter features fast response, multi-functions.
Power control transformer. It comes with energy saving, circulating circuit, high quality coils with insulation isolation.
Mutual inductor. the mutual inductor makes the soft starter more standard for measuring instruments, protection equipment and automatic control equipment.
Soft Starter Applications
The soft starter well suits motor, water pump, mixer, air compressor, conveyor, gravel crusher, etc.
KNOWLEDGE BASE --- What is Soft Starter?
The soft starter is a novel motor control device that integrates motor soft start, soft stop, light load, and multiple protection functions. The soft starter benefits the advantages of no impulse current, constant current start, free stepless voltage regulation to the best starting current and saving energy. For example, if the motor voltage is 380V, we don't want it to rise too fast during the rising stage, so we must first start the motor at a low speed below 220V, and then let it work at full voltage. Why do we do like this? The reason is that if the voltage rises too fast, there will be a large inrush current and other damage will happen. Thus, we need to set up a circuit to let the power supply voltage rise slowly and smoothly, start by stepping down voltage and by reducing the impact.