15 hp soft starter for induction motor comes rated current 23A, 11kW capacity, Three phase 220V, 240V, 380V, 480V input voltages. Affordable price and high quality soft starter used for startup provides a gentle acceleration up to full speed for motors. High quality and convenient motor soft starter with LCD display, industrial grade ABS plastics and full protection functions.
Soft Starter User Manual
:
Peaco Support soft starter user manual.pdf
Features
Smart start. The intelligent motor soft starter comes with various startup modes, including limited current startup mode, voltage ramp startup mode, sudden start mode, current ramp startup and voltage current limiting double closed-loop startup.
Multifunctional operation panel. LCD display for soft starter displays parameters intuitively, easy to operate.
High continuity terminals. Reliable soft starter features high-conductivity terminals made of quality and thickened material and good electrical conductivity is available.
Powerful cooling. The motor soft starter provides effective heat dissipation protection so as to quickly reduce the operating temperature.
Multiple protections in one machine. Smart motor soft starter is available with overcurrent, overload, overheat, low voltage, high voltage, load short circuit, output phase loss, input phase loss, three-phase unbalance protections.
High and low temperature resistance. The electronic soft starter is made of industrial grade ABS plastics with high impact resistance, high heat resistance, stable and good performance.
Specification
Product Name: Intelligent Motor Soft Starter
Model: PEACO-ZJR2-3110
Capacity: 15 hp (11 kW)
Current: 23A at 380V
Input Voltage*: Three phase 220V, 240V, 380V, 400V, 415V, 440V, 460V, 480V, 690V
Frequency: 50Hz/ 60Hz
Adaptive Motor: Squirrel-cage three-phase asynchronous motor
Starting Times: It is recommended not to exceed 20 times per hour.
Control Mode
1) Operation panel control.
2) Operation panel + external control.
3) External control.
4) External control + COM control.
5) Operation panel + external + COM control.
6) Operation panel + COM control.
7) COM control.
8) No start or stop operation.
Start Mode
1) Current-limiting to start.
2) Voltage ramp to start.
3) Torque control + current-limiting to start.
4) Torque control + voltage ramp to start.
5) Current ramp to start.
6) Voltage current-limiting double closed-loop start.
Stop Mode
1) Soft stop.
2) Free stop.
Protective Function:
1) Open loop protection for external instantaneous stop terminals.
2) Over-heat protection for soft starter.
3) Protection for too long starting time.
4) Input open phase protection.
5) Output open phase protection.
6) Unbalanced three-phase protection.
7) Starting over current protection.
8) Running overload protection.
9) Under voltage protection for power voltage.
10) Overvoltage protection for power voltage.
11) Protection for fault parameter setting of the soft starter.
12) Load short circuit protection.
13) Auto restart or incorrect wiring protection.
14) Incorrect wiring protection of external control stop terminals.
Ambient
Place to be used: Indoor location with good ventilation free from corrosive gas and conductive dust.
Altitude: Below 1000M. It has to increase the soft starter rate power when the altitude is more than 1000M.
Temperature: -30℃~+55℃
Humidity: ≤90% RH (without dew condensation)
Vibration: <0.5G
Structure
Enclosure: IP 20
Cooling: Natural wind cooling.
Certification: CE, ISO9001
Warranty: 12 months
Outline Dimension (W1*H1*D): 145*270*160mm
Installation Dimension(W2*H2*d): 130*245*M6
Weight: 3.5 kg
Note: This model of soft starter is without bypass, you need to connect external AC contactor. If you want the soft starter with built-in bypass where there is a AC contactor inside, please visit here 15 hp (11kW) Soft Starter with Built-in AC Contactor.

Soft Start Wiring Diagram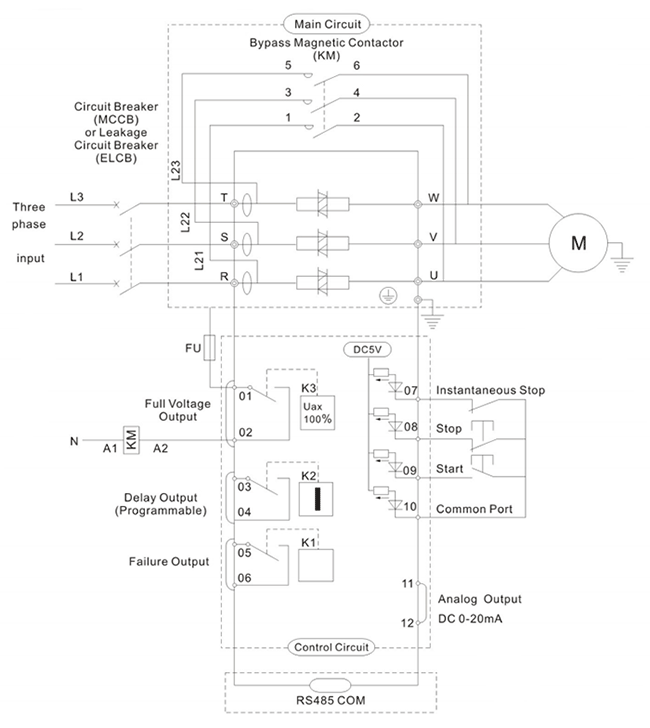 Softer Starter Outline & Installation Dimension (Unit: mm)
Soft Starter Details
Simple control panel. The control panel can be removed to clean, easy to operate, real-time data display on LCD screen.
Smart mainboard. Soft starter features fast response, multi-functions.
Power control transformer. It comes with energy saving, circulating circuit, high quality coils with insulation isolation.
Mutual inductor. the mutual inductor makes the soft starter more standard for measuring instruments, protection equipment and automatic control equipment.
Soft Starter Applications
The soft starter well suits motor, water pump, mixer, air compressor, conveyor, gravel crusher, etc.

KNOWLEDGE BASE --- The Functions of Soft Starter
Overload protection function: The soft starter introduces a current control loop, thus, it can track and detect changes in motor current at any time. With the setting of the overload current and the inverse time control mode, the overload protection function is realized. When the motor is overloaded, the thyristor is turned off and an alarm signal is issued.
Phase loss protection function: The three phase soft starter detects the changes of the three-phase line current at any time during working, and once the current is cut off, the motor soft starter can make a phase loss protection response.
Overheating protection function: The temperature of the thyristor radiator is detected through the internal thermal relay of the soft starter. Once the radiator temperature exceeds the allowable value, the thyristor will be automatically turned off and an alarm signal will be given out.
Short-circuit function: The internal protector can protect the SCR during the in-phase breakdown. The motor is unable to start to ensure that it will not cause overcurrent damage of other components and overcurrent trip of other equipment due to the continuous start after the SCR failure.
Other functions: Through the combination of electronic circuits, other kinds of interlocking protection can also be realized in the system.