680 watt air blower for water slide features 32 m3/min airflow, smooth running with powerful 680W motor, optional 220-240V 50Hz/110-120V 60Hz voltage. The cost-effective 1 hp blower for bounce house is also fit for outdoor water slides, obstacle courses, jumping castle and other inflatables. PE housing, 24 hours sustainable operation time, less vibration and low noise.
Inflatable Blower Features
Reliable & Smooth Running. The bounce house blower provides strong and efficient 680w (1 hp) motor, 11.5cm (outside) air outlet diameter for quickly filling, strong air flowing and stable running.
Safe Operation. Electric air blower has a transparent cover on the switch for safe turning on/off in case it gets wet, 2 vents with wire meshes covering for protecting hands from cutting during running.
Compact & Portable Design. The 1 hp blower for bounce house comes with a handle on the top for easy and convenient transport or carrying, takes less space with small size for portable operation by one person independently.
Silent Air Blower. This jumping castle blower adopts high-quality metal impellers, which greatly reduces its noise during operation and built-in bearing, which greatly reduces noise spreading.
Wide Applications. The inflatable blower is widely used in outdoor bounce houses, water slides, jumping castles, air sofas and other suitable inflatable bouncers.
Inflatable Blower Specifications
Model: PEACO-4E-1
Power: 680W (1 hp)
Voltage: 220-240V 50Hz / 110-120V 60Hz
Speed: 2830 rpm
Pressure: 1750 Pa
Air Flow: 32 m3/min
Sustainable Operation Time: 24 hours
Power Cord Length: 98.43" / 250cm for total length and 82.68" / 210cm for exposed length
Housing Material: High grade PE
Waterproof Grade: IPX4
Certification: CE, UL
Air Outlet Diameter: 4.53"/ 11.5cm (Outside)
Package Dimension: (19.3 x 12.2 x 18.5)" / 49×31×47cm (L x W x H)
G.W.: 8kg
680W Air Blower Dimension (Unit: inch)
Inflatable Blower Details & Applications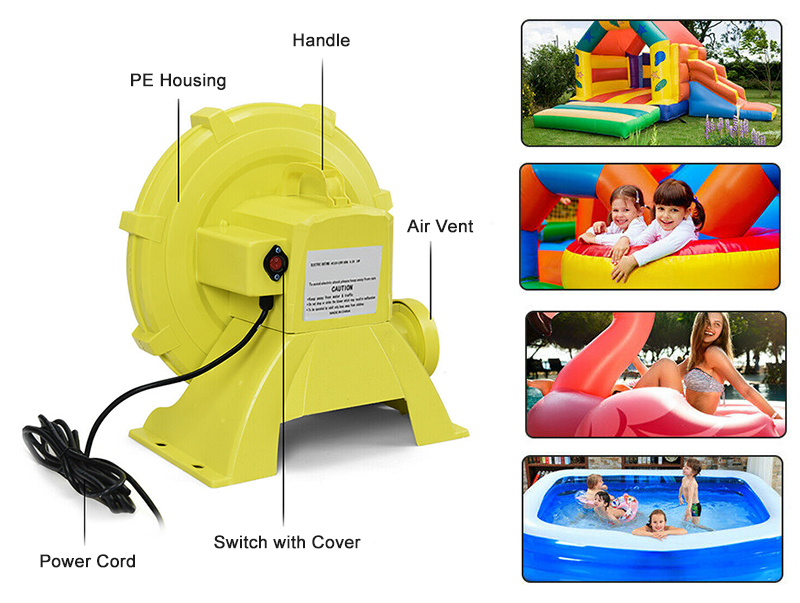 Inflatable Blower User Manual (Ⅰ)
1. All parts of inflatable blower fan should be inspected comprehensively. For example, whether the fan parts are complete, the connection of each bolt and nut is tight or not, the installation of each fastener and positioning pin, intake and exhaust pipes and valves, etc. are complete or not.
2. In order to ensure the safe operation of the blower, additional loads such as pipes, valves and frames are not allowed.
3. Check whether the air blower base is fully cushioned and whether the anchor bolts are tight.
4. Check whether the steering of the inflatable blower motor meets the running requirements.
5. It is suggested that users should fully open the blower inlet and exhaust valves and turn the blower rotor before using. It should rotate flexibly without impact or friction. The air blower can be allowed for trial operation until all conditions are normal.