950W inflatable blower for bounce house for sale, air volume up to 41 cubic meters per minitue, 220-240V 50Hz/110-120V 60Hz voltage. The 950 watt air blower is easy to operate, has high efficiency and great price. Widely employed in outdoor bounce houses, water slides, jumping castles, air sofas, advertising balloons, etc.
Inflatable Blower Features
Reliable & Smooth Running. The bounce house blower provides strong and efficient 950w motor, outside air outlet diameter for quickly filling, strong air flowing and stable running.
Safe Operation. Electric air blower has a transparent cover on the switch for safe turning on/off in case it gets wet, 2 vents with wire meshes covering for protecting hands from cutting during running.
Compact & Portable Design. The 950 watt blower for bounce house comes with a handle on the top for easy and convenient transport or carrying, takes less space with small size for portable operation by one person independently.
Silent Air Blower. This jumping castle blower adopts high-quality metal impellers, which greatly reduces its noise during operation and built-in bearing, which greatly reduces noise spreading.
Wide Applications. The inflatable blower is widely used in outdoor bounce houses, water slides, jumping castles, air sofas and other suitable inflatable bouncers.
Inflatable Blower Specifications
Model: PEACO-5E
Power: 950W
Voltage: 220-240V 50Hz / 110-120V 60Hz
Speed: 2800 rpm
Pressure: 2000 Pa
Air Flow: 41 m3/min
Sustainable Operation Time: 24 hours
Power Cord Length: 4m
Housing Material: High grade PE
Waterproof Grade: IPX4
Certification: CE, UL
Dimension: 520*340*565mm
N.W./ G.W.: 10kg/13kg
Inflatable Blower Details & Applications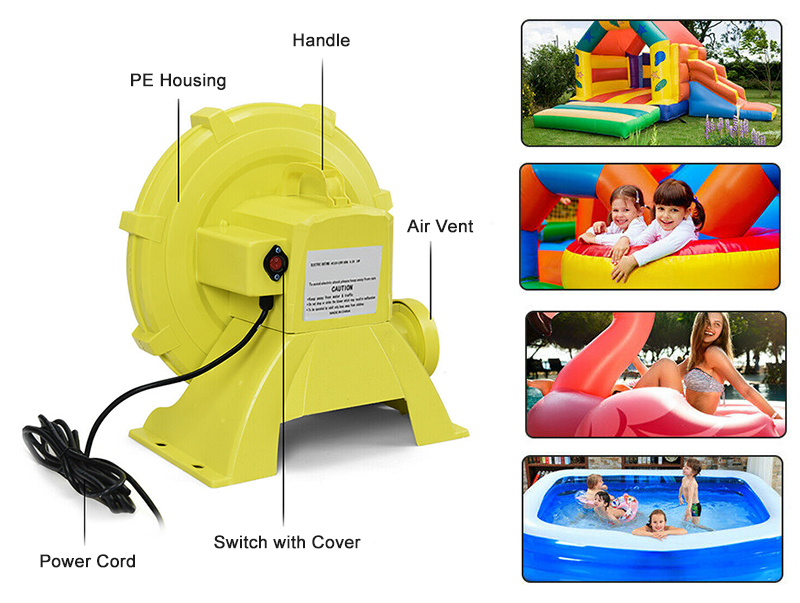 Blowers Maintenance Tips
1. Inflatable blowers should not be installed in such places where people often go in and out to prevent their injuries and burns.
2. Fans should not be put in places where flammable, explosive and corrosive gases are easily produced to avoid fire and poisoning accidents.
3. According to the direction of the intake and exhaust ports and maintenance needs, there should be a proper and roomy space.
4. When installing air blowers, users should check whether the foundation is firm, whether the surface is flat and whether the foundation is higher than the ground, etc.
5. When users need to put blowers to inflate outdoors, a rain-proof shed should be provided.
6. The fan can be used for a long time at ≤ 40℃-45℃. When it exceeds 40-45℃, cooling measures such as installing exhaust fans should be taken to improve the service life of the fan.
7. When inflatable blower transports air medium, its dust content should generally not exceed 100mg/m3.