480w air blower for bounce house comes with 21 m3/min airflow, 220-240V/110-120V supply voltage, 50Hz/60Hz frequency. The small inflatable blower housing is made of PE material, IPX4 waterproof grade and corrosion resistant. Sustainable operation time up to 4 hours. High quality electric blower for bounce house, jumping castle, water slide.
480W Blower Features
Reliable & Smooth Running. The bounce house blower provides strong and efficient 480w (0.64 hp) motor, 4-1/4" (outside) air outlet diameter for quickly filling, strong air flowing and stable running.
Safe Operation. Electric air blower has a transparent cover on the switch for safe turning on/off in case it gets wet, 2 vents with wire meshes covering for protecting hands from cutting during running.
Compact & Portable Design. The 480 watt blower comes with a handle on the top for easy and convenient transport or carrying, takes less space with small size for portable operation by one person independently.
Silent Air Blower. This jumping castle blower adopts high-quality metal impellers, is a kind of quiet bounce house blower, which greatly reduces its noise during operation and built-in bearing, which greatly reduces noise spreading.
Wide Applications. The inflatable blower is widely used in outdoor bounce houses, water slides, jumping castles, air sofas and other suitable inflatable bouncers.
480 Blower Specifications
Model: PEACO-3E
Power: 480W (0.64 hp)
Voltage: 220-240V 50Hz / 110-120V 60Hz
Speed: 2850 rpm
Pressure: 1650 Pa
Air Flow: 21 m3/min
Sustainable Operation Time: 24 hours
Power Cord Length: 2m
Housing Material: High grade PE
Waterproof Grade: IPX4
Certification: CE, UL
Dimension: 440*280*445mm
G.W.: 6kg
480W Blower Details & Applications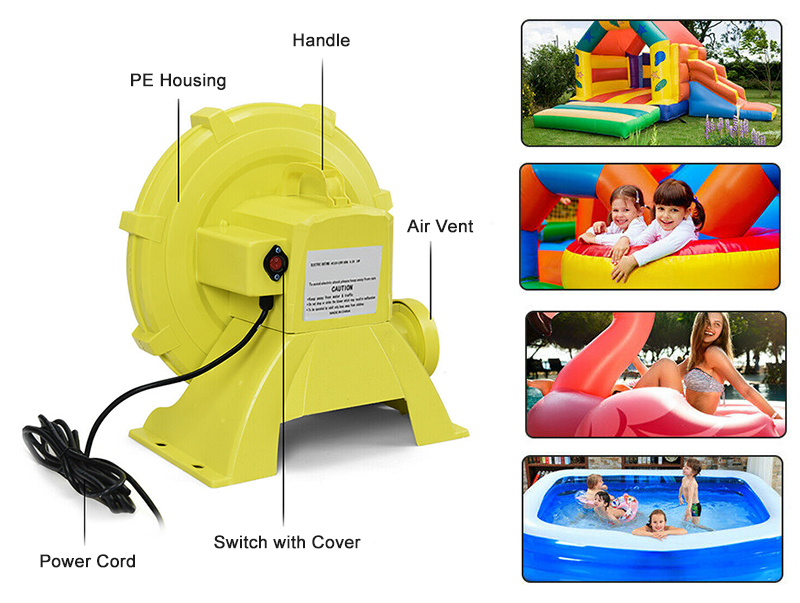 Inflatable Blowers for Sale

An inflatable blower works like a big fan that throws air into your bounce house to inflate it. Its operation is very easy and users just plug them into an outlet, connect the bouncer's air tube to the blower, turn on the blower to make it run.
Under normal circumstances, the small air blower for inflatable can continue to supply air continuously for about 10 hours a day. It provides protection device and the power will be cut off when abnormal operation occurs, such as overheating, power leakage. Such quiet bounce house blowers work quietly.

Such a commercial inflatable bounce house blower by Peaco Support is for use with outdoor bounce houses, water slides, obstacle courses, jumpers and other inflatables. The inflatable blower is also widely used for temporary medical mobile house, outdoor medical rescue, inflatable disinfection channel.