Peaco support CJX2 AC contactor consists with optional auxiliary contacts, 24V/ 110V/ 220V coil, is mainly used at 50Hz - 60Hz operational frequency with maximum allowable rated voltage 380V and 690V for AC3 / AC4 type industrial application. AC contactor CJX2-1201 features 12A rated current and 3NO main contact and 1NC auxiliary contact. 3 pole/ 4 pole AC contactor with other currents are available.
AC Contactor Specifications
Model
PEACO-CJX2-12
Rated current* (optional)

380V
AC-3
12A
AC-4
5A
660V
AC-3
9A
AC-4
2A
Conventional heating current
20A
Rated insulation voltage
690V
Powe of controllable 3-phase squirrelcage motor (AC-3)
220V
3kW
380V
5.5kW
660V
7.5kW
Operatiopnal frequency
Electric life
AC-3
1200 operations/h
AC-4
300 operations/h
Mechanical life
3600 operations/h
Service life
Electric life
AC-3
1,000,000 operations
AC-4
200,000 operations
Mechanical life
10,000,000 operations
Matching fusing model
RT16-20
Average power consumption at 50Hz, 20℃
Pick-up
76VA
Holding
94VA
Pole* (Optional)
3P+NO, 3P+NC, 4P(4NO), 4P(2NO+2NC)
Weight
0.33kg
Certification
CCC
Warranty
2 years
Note: For electricity-related maintenance and installation, make sure that the operator holds the qualification for electrical work and takes necessary power-off and insulation protection measures.
Features
32 pieces of iron core with solid materials, the suction is more smooth and tight.
Provides silver alloy contacts with strong conductivity and flame retardant housing.
With copper coils with strong electromagnetic suction when the coil is energized.
Normal Working and Installation Conditions
1. Ambient temperature: -5℃~+40℃, the average value should not exceed +35℃ within 24 hours.
2. Altitude: <2000m.
3. Atmospheric conditions: When the temperature reaches 40℃, the relative humidity of atomsphere should be <50%. When at relatively low temperatures, it could have higher relative humidity. Monthly maximum relative humidity could be not more than 90%. Special measures should be taken if there is occurrence of dews due to temperature changes.
4. Class of pollution: Class 3
5. Installation category. Ⅲ
6. Installation conditions: The inclination degree between the installation surface and the vertical surface does not exceed ±5°.
7. Impact shock: AC contactors should be installed and used in the place where there are no strong shakes and impacts.
AC Contactor Dimension (Unit: mm)
Amax=47, Bmax=76, Cmax=82, Dmax=115, Emax=135, Fmax=73, a=35, b=50/60, Φ=4.5
AC Contactor Details (Taking CJX2-0910 AC contactor as an example.)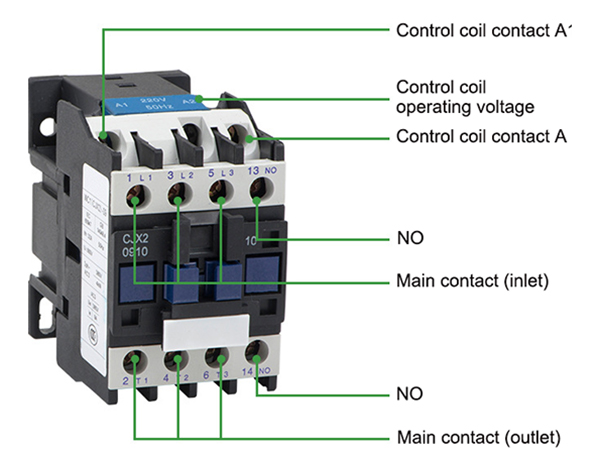 AC Contactor Wiring (Taking 220V AC coil voltage as an example.)
KNOWLEDGE BASE---How does an AC contactor do?
The AC contactor is generally used to start the equipment. The contactor comes with different control wiring methods to control the forward and reverse rotation, start and stop of the motor and can realize remote control with controlling the cable as well as multiple control by changing the connection method. AC contactor is such a low-voltage control appliance that is commonly used in power drag and automatic control systems. As an actuator, it is used to connect and disconnect lines or frequently control the operation of equipment, such as motors.
AC contactor consists of moving and static main contacts, arc extinguishing cover, moving and static iron cores, auxiliary contacts and bracket shells. After the electromagnetic coil is energized, the moving iron core is pulled in under the action of electromagnetic force and the moving contact is contacted with the static contact directly or through lever transmission and the circuit will be connected. After the electromagnetic coil is powered off, the moving iron core automatically returns under the action of the return spring, commonly known as release, the contacts are separated and the circuit is disconnected.