The MIG welder comes with MIG complete accessories, 40-180 Amp output current range, 230V power voltage, working efficiency up to 85%, complete MIG welding accessories are available. Portable MIG welder is used for flux (no gas) and MIG/MAG (gas) welding.
Features
1. The mini MIG/MAG/MMA welder has good quality with CE, RoHS certified.
2. 230V welder features single phase is a portable MIG welder, easy to carry and work.
3. The electric welder comes with fan-cooling, thermal protection and is equipped with complete welding accessories.
4. High quality MIG welder is used to weld different types of materials, such as steel, stainless steel.
Specifications
Model
MIG-160S
MIG-180S
Power Voltage
230V
Frequency
50Hz/60Hz
No-load Voltage
55V
55V
Usable Electrode
1.6-3.2mm
1.6-4.0mm
Output Current Range
40-160A
40-180A
Duty Cycle
35%
35%
Efficiency
85%
Insulation Class
F
Protection Class
IP21s
Dimension
540*335*440mm
Welding Wire Dia
0.8-1.0mm
Weight
17kg
17kg
Certification
CE, RoHS
MIG Welder Accessories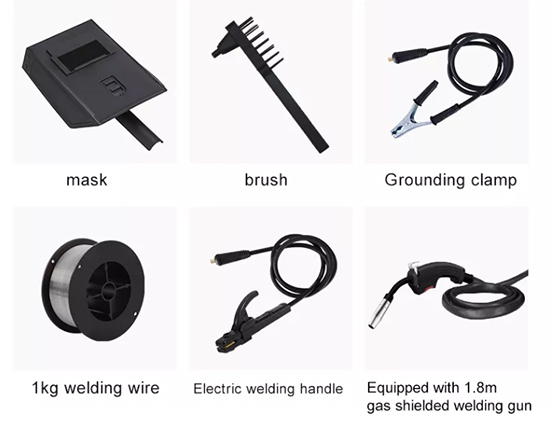 KNOWLEDGE BASE --- What Is MIG Welding?
Metal Inert Gas (MIG) is a sub-type of gas metal arc welding (GMAW). MIG welding is one of several welding techniques and is basically an arc welding process that pieces of metal are heat, melt and joined with the help of an arc. Such an arc is formed between the surface to be welled and a continuously fed filler electrode. The MIG welding adopts a shielding gas to prevent the molten pool of weld metal from reacting with elements present in the atmosphere. Additionally, a DCEP (Direct Current Positive Electrode), also known as Reverse Polarity is required by this type of welding.