10 hp VFD can be used as an elevator VFD drive to convert 1-phase to 3-phase to drive three phase AC motors. Reliable 1-phase 220V to 3-phase 380V converter for AC motor speed control. RS485 standard communication port available, high quality with CE certified and IP20 protection grade, with VFD user manual for convenient use.
Features
Control modes. V/F, sensorless vector control, vector control with PG function. Closed loop vector control is available. The 1-phase 220V to 3-phase 380V VFD controls speed of three-phase AC induction motor, supports incremental encoder vector control and V/F separation technique.
High starting torque. The elevator VFD drives produce 150% of the starting torque at 0.5Hz (no speed sensor vector control), produce 180% of zero torque at 0Hz (speed sensor vector control).
Fast response. Torque respond: <20ms with NO sensor vector control, <5ms with sensor vector control.
Torque limitation. These AC drives have torque limiting function, which limits the torque within the set maximum torque to provide the maximum torque required to meet the demands of the process requirements or to protect the equipment.
Expandable communication, optional profibus, TCPIP, CAN.
Single phase to three phase VFD adopts independent air duct design with better cooling.
Excellent vector algorithm and online torque compensation are available.
Output frequency range of elevator VFD is 0Hz-5000Hz.
Speed tracking function is available in VFD, fast and smooth tracking.
Static parameter identification, learning the resistance and inductance of the motor without rotating the motor, etc., to acilitate the operation of the vector mode when it is not suitable for dynamic learning.
When the power is cut off or the grid is unstable, the motor can run normally and slow down smoothly.
Specifications
Basics
Model
PEACO-9000-4T0075G
Rated capacity
10 hp (7.5 kW)
Rated current
17A
Outline dimension (H*W*D)
271*172*183mm
Mounting dimension (H1*W1), Pore size
256*155mm, Φ5, 8kg weight
Certification, Warranty
CE, ISO9001, 18 months
Input
Rated voltage*
Single phase AC 220V ±20% (210V, 220V, 230V, 240V)
Frequency, Tolerance
50Hz/60Hz. Voltage: ±20% voltage unbalance rate:<3%; frequency: ±5%
Output
Rated voltage*
Three phase AC 380V/400V/415V/440V/460V/480V.
Frequency range
0Hz~5000Hz
Frequency resolution
0.01Hz
Overload capability
150% rated current for 1 minute, 180% rated current for 3 seconds
Control function
Torque control accuracy
±5% (FVC)
Control mode
V/F, sensorless vector control (SVC), Speed sensor vector control (FVC)
Frequency accuracy
Digital setting: The highest frequency×±0.01% Analog setting: The highest frequency×±0.2%
Frequency resolution
Digital setting: 0.01Hz; Analog setting: The highest frequencyv×0.1%
Start frequency
0.40Hz~20.00Hz
Torque boost
Auto torque boost, manual torqu boost 0.1%~30.0%
V/F curve
Five ways: constant torque V/F curve, 1 kind of user defined V/F curve, 3 kinds of down torque curve (2.0/1.7/1.2 times the power).
Acc./Dec. curve
Two ways: linear Acc./Dec., S-curve Acc./Dec.; 7 kinds of Acc./Dec. time, Time unit (minute/second) optional, max. time: 6000 minutes.
DC braking
DC braking frequency: 000Hz~ Max frequency. Braking time: 0.0s~36.0s. Braking action current value: 0.0%~100.0%.
Energy consuming braking
Below 22KW drive built-in energy consuming braking unit, external braking resistor is optional.
Jog running
Jog frequency range: 0.1Hz~50.00Hz, JOG Acc./Dec. time:0.0~6500.0s.
Build-in double PID
Easily constitute a close loop control system.
Short time continuous working when power failure
when the instantaneous power failure occurs, the load side regenerative energy compensate the voltage drop and the inverter keep running for a short time.
Multi-stage speed running
Max 16 multi-stage speed running via build-in PLC or control terminals.
Textile swing frequency
Swing frequency available with preset and central frequency adjustable.
Auto voltage regulation
Keep a stable voltage automatically when the grid voltage transients.
Auto energy saving running
Saving energy by auto optimizing V/F curve according to the load.
Auto current limiting
Auto current limiting to prevent frequent over current fault trip.
Multi pumps control
With water supply kit, it can implement multi pumps constant pressure water supply.
Communication
Support: Modbus RS485, Profibus, CANlink, CANopen.
Running function
Running command channel
Keypad, control terminal, serial port, above 3 channels are switchable.
Frequency setting channel
Keypad potentiometer setting: ▲, ▼ control panel keys setting, Function code setting, Serial port setting, Terminal up/down setting, Input Analog voltage setting, Input Analog current setting, Input pulse setting, Combination ways setting, Above ways are switchable.
Switch input channel
FWD/REV command: 8channels programmable switch inputs, 52 kinds of functions can be set separately.
Analog input channel
4~20mA: 0-10V; 2 optional analog inputs.
Analog output channel
4~20mA or 0~10V optional, setting frequency and output frequency, etc. feature output.
Switch/pulse output channel
Programmable open collector output, relay output: 0~20KHz pulse output.
Control panel
LED digital display
Display setting frequency, output voltage, output current, etc.
External meter display
Display output frequency, output current, output voltage, etc.
Key lock
All the keys can be locked.
Parameter copy
Function code parameters can be copied between inverters when use remote control panel.
Protection function
Over current protection, over voltage protection, under voltage protection, over heating protection, overload protection, etc.
Optional parts
Braking unit, remote control panel, cable, panel mounting feet, etc.
Environment
Environment
Indoors, avoid from direct sunlight, dust, corrosive gas, oil mist, steam, water dropper salt, etc.
Altitude
Lower than 1000m (derating is necessary above 1000m)
Ambient temperature
-10℃~+40℃
Humidity
<95%RH, no condensation
Vibration
Lower than 5.9m/s (0.6g)
Storage temperature
-20℃~+60℃
Protection level
IP20 (In the selection of state display unit or the keyboard state)
Cooling
Forced air cooling
Installation
Floor mounted
Note:
* denotes optional or customized parameters and you can select every parameter in drop-down lists to complete your order.
VFD Control Wiring Diagram
VFD wiring & VFD Dimension (Unit: mm)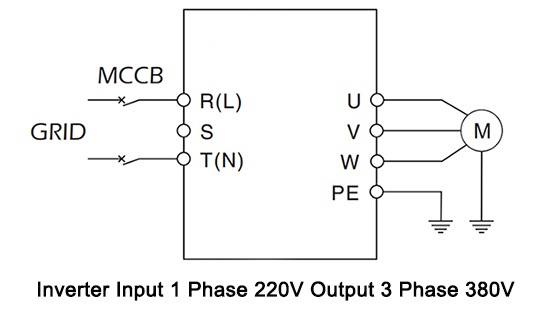 KNOWLEDGE BASE --- Can a 380v motor run on 220v?
Many people ask this question---Can 220v be converted to 380v with a frequency converter to drive a three-phase motor? The answer is YES.
A variable frequency drive (VFD) can completely convert 220V household electricity into 380V industrial electricity, which is used to drive three-phase asynchronous motors. The output is an analog sine wave three-phase alternating current (AC) with adjustable frequency and voltage. It is not a standard sine wave. Usually it can only be used to control a three-phase asynchronous motor and the motor speed can be adjusted by changing the output frequency of the inverter. It cannot be connected to use on single-phase loads.
The main circuit of the AC drive generally adopts the AC-DC-AC working mode, namely, the alternating current (AC) is converted into direct current (DC) and then the high-power switch tube inside the inverter is turned on or off according to a certain procedure and the inverter is turned into a simulated 3-phase sine wave AC output.
There are many kinds of VFDs on peacosupport.com, single phase VFD, 1 phase to 3 phase VFD, three phase VFD, 1-phase 220V to 3-phase 380V VFD, 1-phase 220V to 3-phase 400V VFD, 1-phase 220V to 3-phase 440V VFD, etc., which are usually designed for AC motor speed control in the industry. Most of them use industrial three-phase AC as the input power source, thus the design capacity of inverter drive needs to be increased.