32A industrial waterproof male connector can be matched with four types of female connectors, such as panel mounted socket or wall mounted socket, which have high performance and high quality approved according to IEC 60 309-1 and 60 309-2 and CE. Cost-effective industria plugs and sockets for a quick connection to the electrical mains with high voltages and current.
Connector Features

Model TYP285 industrial waterproof connector is a male connector for clamping cable, featuring 32A, 3P+N+E, provides screw and tunnel terminal and inner core with high temperature resistant, cable outer diameter range up to Ø13-19mm. Its bolt surface has nickel plated. Cable fasteners and seals are available on the industrial plug equipped with stress relief device to prevent cable breaking. The housing offers thread locking device.
Model TYP2823 industrial female connector comes with cable clamp, 32A, 3P+N+E, IP44, can be matched with model TYP285 connector as male and female connectors.
Model TYP5823 panel mount socket provides 32A, 5 pin (2P+N+E), IP44, flange 75*75mm and comes with screw terminals and cover for protection, is a traight type socke, can works in harsh enviroment with -25 ℃.
Model TYP3823 industrial socket outlet for panel mounting is a kind of angled panel mount socket and features flange 100*92mm, IP44 protection rating, 32A and 5-pin.
Model TYP6823 surface mount electrical outlet features screw terminals, two cable inlets (open top and closed bottom), comes with protection cover and housing with screw locking, large wiring space is possible.
Technical Parameters
Current : 32A

Pole : 5 (5-pin / 3P+N+E)
Optional voltage : 110V (50-60Hz) / 230V (50-60Hz) / 400V (50-60Hz) / 500V (50-60Hz) / 100-300Hz (>50V) / 300-500Hz (>50V)

Coupling : Screw
Shell material : Nylon
Contact material : Brass with nickel plating
Temperature rage : -25℃ ~ +85℃
Insulation resistance : 500V~1min >5MΩ
Rated voltage : 200-250V AC, 50/60Hz
Test voltage 1min : 2500V AC
Insert material : Fiberglass reinforced plastics
IP rating : IP44
Certification : IEC 60309-1, IEC 60309-2, GB/T11918.1, GB/T11918.2, CE

Dimension (Unit: mm)
Model TYP285 Male Connector

Min. wire size : 2.5mm2
Max. wire size : 10mm2
Cable outer diameter range : 13-19mm
Net Weight : 285g
Model TYP2823 Female Connector
Min. wire size : 2.5mm2

Max. wire size : 6mm2
Cable outer diameter range : 13-19mm
With cable clamp.
Net Weight : 330g
Model TYP5823 Panel Mounted Socket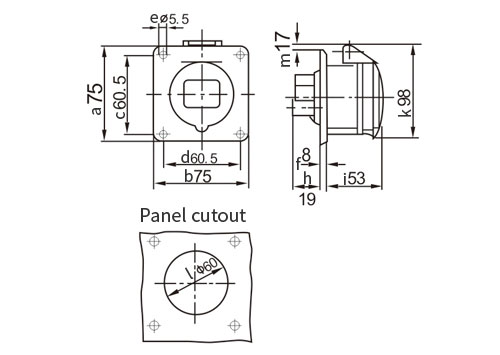 Min. wire size : 2.5mm2
Max. wire size : 6mm2
Flange : 75*75mm
Net Weight : 210g

Model TYP3823 Panel Mounted Socket
Min. wire size : 2.5mm2
Max. wire size : 6mm2
Angle : 20°
Flange : 100*92mm
Net Weight : 225g

Model TYP6823 Surface Mounted Socket
Min. wire size : 2.5mm2
Max. wire size : 6mm2
Cable inlets : one top hole (open) and one bottom hole (closed)
Net Weight : 315g