Industrial plug and sockets provide current of 16A, 3 poles (2P+E) and protection grade is IP 44. Best male and female connectors are used indoors. Model TYP231 male connectors can be matched with four types of female commectors and sockets for your different requirements, they are IEC connectors with high quality and performance.
Connector Features

Model TYP231 industrial plug is a male connector for clamping cable, featuring 16A, 2P+E, IP44. The plug provides 3 pins with high quality material, cable outer diameter range up to Ø10-13mm, cable gland and seal and strain relief to prevent cable breaking.Contact material is brass with nickel plating, Nylon shell and fiberglass reinforced plastics for insert.
Model TYP2601 industrial socket comes with cable clamp, 16A, 2P+E, IP44, can be matched with model TYP231 connector as male and female connectors.
Model TYP4601 panel mounted socket provides 16A current, 3 pin (2P+E), IP44, flange 55*60mm and comes with screw terminals and cover for protection, is a traight type of industrial socke, is suitable for use in harsh enviroment under 25 ℃.
Model TYP3601 industrial socket outlet for panel mounting is a kind of angled panel mount socket with 20 degree and its flange size is 74*62mm, IP44 protection rating, 16A and 4-pin.
Model TYP6601 surface mounted socket features screw terminals, two cable inlets (open top and closed bottom), protection cover and housing with screw locking is provided and there is more wiring space.
Industrial plugs and sockets are widely used in factory power supply configuration, mechanical equipment, construction sites, ports, mines, etc. and suitable for water supply, drainage and sewage treatment projects.

Technical Parameters
Current : 16A

Pole : 3 (3-pin / 2P+E)
Optional voltage : 110V (50-60Hz) / 230V (50-60Hz) / 400V (50-60Hz) / 500V (50-60Hz) / 100-300Hz (>50V) / 300-500Hz (>50V)

Coupling : Screw
Shell material : Nylon
Contact material : Brass with nickel plating
Temperature rage : -25℃ ~ +85℃
Insulation resistance : 500V~1min >5MΩ
Rated voltage : 200-250V AC, 50/60Hz
Test voltage 1min : 2500V AC
Insert material : Fiberglass reinforced plastics
IP rating : IP44
Certification : IEC 60309-1, IEC 60309-2, GB/T11918.1, GB/T11918.2, CE

Dimension (Unit: mm)
Model TYP231 Male Connector

Min. wire size : 1.5mm2
Max. wire size : 4mm2
Cable outer diameter range : 10-13mm
Net Weight : 135g
Model TYP2601 Female Connector
Min. wire size : 1.5mm2

Max. wire size : 4mm2
Cable outer diameter range : 10-13mm
With cable clamp.
Net Weight : 165g
Model TYP4601 Panel Mounted Socket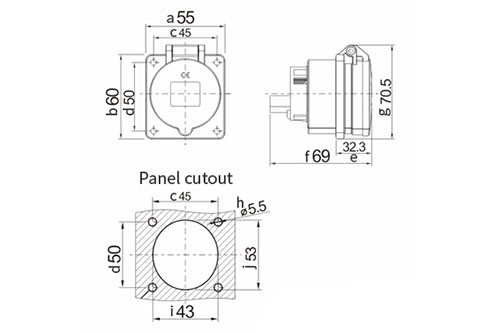 Min. wire size : 1.5mm2
Max. wire size : 4mm2
Flange : 55*60mm
Net Weight : 95g

Model TYP3601 Panel Mounted Socket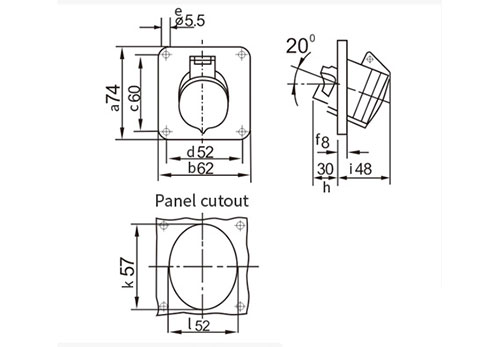 Min. wire size : 1.5mm2
Max. wire size : 4mm2
Angle : 20°
Flange : 74*62mm
Net Weight : 105g

Model TYP6601 Surface Mounted Socket
Min. wire size : 1.5mm2
Max. wire size : 4mm2
Cable inlets : one top hole (open) and one bottom hole (closed)
Net Weight : 180g