36V switching power supply comes with high working efficiency up to 83%, short circuit, overload protections, converting a wide range of AC input to 36V DC output at the rated power of 120W. Affordable AC-DC switching power supply used in home appliance, industrial control equipment, such as mobile phone chargers, medical test devices, arc welding equipment and automotive chargers.
Features
AC input range can be selectable with switch.
AC to DC switching power supply comes with short circuit, overload protections.
Switching power supply featues natural cooling, 100% full load burn-in test for reliable use.
Fixed switching frequency is at 25KHz.
Low cost, high reliability. 2 years warranty is available.
36V 3.4A Switching Power Supply Specification
Model
PEACO-S-120-36
Output
DC Voltage
36V
Rated Current
3.4A
Current Range
0-3.4A
Rated Power
122.4W
Ripple & Noise (Max.)
150mVp-p
Voltage Adjustment Range
±10%

Voltage Precision
±1.0%
Line Regulation Rate
<±0.5%
Load Regulation Rate
<±0.5%
Input
Voltage Range
90V~132V AC/180V~264V AC (selected by switch.)
Frequency Range
47Hz~63Hz (255V~373V DC)

Efficiency
83%
AC Current
2.8A/115V AC, 1.2A 220V AC, 1.4A/230V AC
Shock Current
18A 115V AC, 36A 230V AC
Setup, Rise, Hold Time

200ms, 50ms, 20ms: 220V AC

Protection
Over Load
≥ 105~150% rated output power
Protection type : Constant current output + VO drop to undervoltage point, cut off output, reset: power up again.
Short Circuit
+VO drops to undervoltage point to close output.
Environment
Working Temperature
-10 ~ +60℃ (Refer to output load derating curve)
Working Humidity
20 ~ 90% RH non-condensing
Storage Temperature & Humidity
-20 ~ +85℃, 10 ~ 95% RH
Temperature Coefficient
+0.03%/℃ (0~50℃)
Vibration
10 ~ 500Hz, 2G 10min./1cycle, 60min. each along X, Y, Z axes
Safety
Safety Standard
Conform to UL1012, EN55022, Class A
Withstand Volatge
I/P-O/P:1.5KVAC, I/P-FG:1.5KVAC, O/P-FG:0.5KVAC last for 1min
Isolation Resistance
I/P-O/P, I/P-FG, O/P-FG:500VDC/100MΩ
Leakage Current

<3.5mA/240V AC
Others
MTBF
271.9K hrs min. MIL-HDBK-217F (25℃)
Dimension
199*98*38mm (L*W*H)
N.W/G.W.
535g/580.8g
Note
1. All parameters are measured at 230V AC input, rated load and 25℃ of ambient temperature if they are NOT specially mentioned.
2. Ripple & noise are measured at 20MHz of bandwidth by using a 12" twisted pair-wire terminated with a 0.1uf & 47uf parallel capacitor.
3. Tolerance includes set up tolerance, line regulation and load regulation.
4. Linear adjustment rate test: testing from low vóltage to high voltage at rated load load.
5. Load adjustment rate test: from 0%-100% rated load.
6. The start-up time is measured in the cold start state and the fast and frequent booting and shutting down may increase the startup time.
7. When the altitude is above 2000 meters, the operating temperature should be lowered by 5℃/1000m.
SMPS Power Supply Details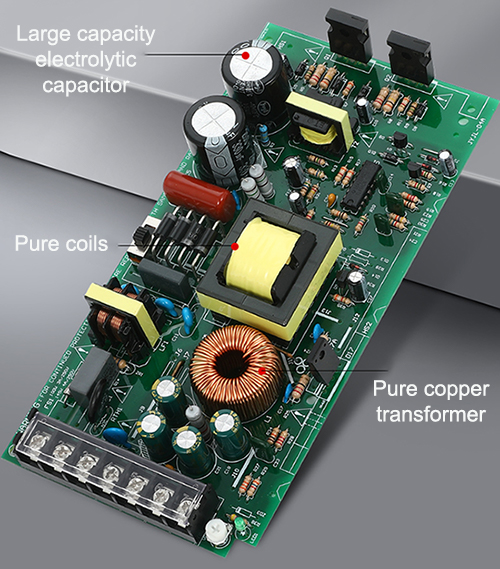 Switching Power Supply Diagram
KNOWLEDGE BASE ---