New style 8 kVA isolation transformer at affordable price is a step down or step up transformer with galvanic isolation, three phase primary voltage 480V to secondary voltage 240V, H-class vacuum impregnated insulation to prevent from electric shock. Reliable electrical isolation transformer for your project. Other dry type isolation transformers with special voltage can be customized.
Specification
Model
PEACO-SG-8KVA

Winding Material*
Enameled copper wire or enameled aluminum wire (Optional)
Capacity*
8 kVA (Customized)
Primary Voltage (VAC)*
120V/ 190V/ 208V/ 220V/ 230V/ 240V/ 380V/ 400V/ 440V/ 415V/ 460V/ 480V/690V...(Customized)
Secondary Voltage (VAC)*
120V/ 190V/ 208V/ 220V/ 230V/ 240V/ 380V/ 400V/ 440V/ 415V/ 460V/ 480V...(Customized)
Withstand Voltage Test
100% tested. Primary to secondary AC 10KV/min; Primary to safety ground AC 10KV/min; Secondary to safety ground AC 3.0KV/min. (Customized: with 4000 VRMS Hipot)

Insulation Resistance
Primary to secondary 2500V>100 megohm; Primary to safety ground 2500V>100 megohm; Secondary to safety ground 1500V>100 megohm.
Frequency*
50 / 60Hz
Insulation Class
F/ H
Connection Type

Ynyn0, Yd11, Dyn11, Dd0, Dyn5, Dzn0 (Optional)

Enclosure Protection Grade

IP24 (IP65 can be customized)

Induction Withstand Voltage Test
125Hz/ 800V/60s
Ground Resistance
25A<100 milliohm
Cooling Method
Natural or air cooling
Transformation Ratio
<3%
Air Carrying Current
<3%
Impedance Voltage
About 4.5%
Total Losses / Efficiency
4% / ≥ 80%~99%
Operating/Storage Temperature

-15℃~40℃ (40℃, 93% RH, 56 days)
Temperature Rise

F≤100K, H≤125K

Noise
≤ 60dB (A) (within 1 m)

Certificate
CE
Designed Life / Warranty
30 years / 1 year
Note: * denotes optional and customized parameters and you can select every parameter in drop-down lists to complete your order.

Features
Silicon Steel Sheet: New cold rolled silicon steel sheet, 0.27mm, 0.30mm, 0.35mm of thickness, excellent performance.
Terminal Block: High quality terminal block, excellent temperature resistance, pressure resistance and flame retardancy for small power. For high power, made of quality copper material, with good electrical conductivity, high temperature resistance, not easy to burn out the equipment when short circuit happens.
Enameled Wires: H class enamelled copper/aluminum wires, temperature resistance180℃, winded tightly and uniformly, no insulating layer, high heat dissipation, service life ≥35 years.
Bobbin: Made of nylon, high temperature resistance, great flame retardancy. The high power transformer with frameless design has ventilation slots between the coils for smooth air flows which reduce temperature of coils.
Insulation Process: The whole dry type isolation transformer adopts H-class vacuum impregnated insulation, temperature resistance of 180°C, lower noise, better insulation and is anti-rust and anti-corrosion.
Dimension & Schematic Diagram (Unit:mm)
Rated Capacity
Overall size (A*B*C)
Installation Dimension (D*E)
Weight of Aluminium Wire Transformer
Weight of Copper Wire Transformer
Open Type
Protected Type
Open Type
Protected Type
8 kVA
380*200*380mm
260*130mm
48 kg
70 kg
53kg
78 kg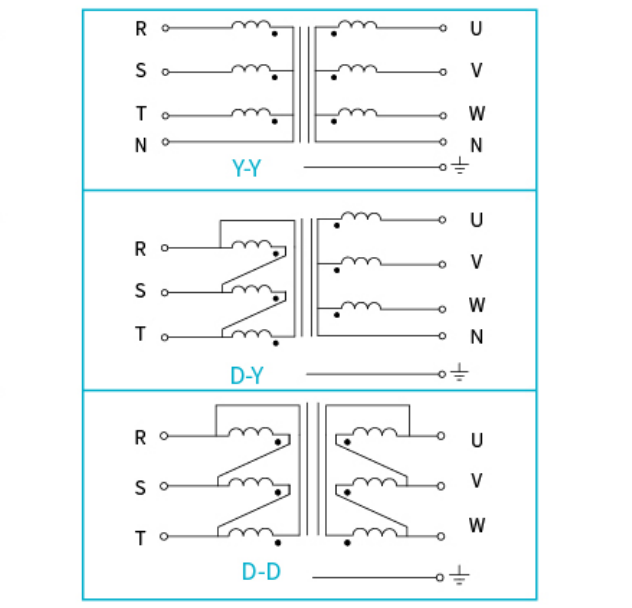 KNOWLEDGE BASE --- Main Reasons for Deformation of Transformer Coils
With the continuous development of the power system, the transformer plays an increasingly important role as a key equipment in the power system. The safe operation of electrical isolation transformer is directly related to the reliability of the entire power system.
Transformer coils deformation refers to the axial and amplitude dimensional changes, body displacement and coil distortion that occur after the coils are stressed.

There are two main reasons for the deformation of transformer coils.
One is that the transformer is unavoidably affected by external short-circuit faults during operation.
The other is that the transformer is accidentally collided during transportation and hoisting.