New style 2 kVA isolation transformer for offering galvanic isolation and reducing electrical noise in sensitive devices. Primary voltage 460V AC to secondary voltages 230V AC 3 phase step down transformer. Optional open and enclosed type for indoor and outdoor use. 240V to 240V, 480V to 480V isolation transformer is also available.
Specification
Model
PEACO-SG-2KVA
Winding Material*
Enameled copper wire or enameled aluminum wire (Optional)
Capacity*
2 kVA (Customized)
Primary Voltage (VAC)*
120V/ 190V/ 208V/ 220V/ 230V/ 240V/ 380V/ 400V/ 440V/ 415V/ 460V/ 480V/690V...(Customized)
Secondary Voltage (VAC)*
120V/ 190V/ 208V/ 220V/ 230V/ 240V/ 380V/ 400V/ 440V/ 415V/ 460V/ 480V...(Customized)
Withstand Voltage Test
100% tested. Primary to secondary AC 10KV/min; Primary to safety ground AC 10KV/min; Secondary to safety ground AC 3.0KV/min. (Customized: with 4000 VRMS Hipot)

Insulation Resistance
Primary to secondary 2500V>100 megohm; Primary to safety ground 2500V>100 megohm; Secondary to safety ground 1500V>100 megohm.

Frequency*
50 / 60Hz
Insulation Class
F/ H
Connection Type
Ynyn0, Yd11, Dyn11, Dd0, Dyn5, Dzn0 (Optional)
Enclosure Protection Grade

IP20 (Customized)

Induction Withstand Voltage Test
125Hz/ 800V/60s
Ground Resistance

25A<100 milliohm
Cooling Method
Natural or air cooling
Transformation Ratio
<3%
Air Carrying Current, Overload Capacity
<3%, double rated current can last 1 minute.
Impedance Voltage
About 4.5%
Total Losses / Efficiency
4% / ≥ 80%~99%
Operating/StorageTemperature

-15℃~40℃ (40℃, 93% RH, 56 days)
Temperature Rise

F≤100K, H≤125K

Noise

≤ 60dB (A) (within 1 m)

Certificate
CE
Designed Life / Warranty
30 years / 1 year
Note: * denotes optional and customized parameters and you can select every parameter in drop-down lists to complete your order.

Features
Silicon Steel Sheet: New cold rolled silicon steel sheet, 0.27mm, 0.30mm, 0.35mm of thickness, excellent performance.
Terminal Block: High quality terminal block, excellent temperature resistance, pressure resistance and flame retardancy for small power. For high power, made of quality copper material, with good electrical conductivity, high temperature resistance, not easy to burn out the equipment when short circuit happens.
Enameled Wires: H class enamelled copper/aluminum wires, temperature resistance180℃, winded tightly and uniformly, no insulating layer, high heat dissipation, service life ≥35 years.
Bobbin: Made of nylon, high temperature resistance, great flame retardancy. The high power transformer with frameless design has ventilation slots between the coils for smooth air flows which reduce temperature of coils.
Insulation Process: The whole transformer adopts H-class vacuum impregnated insulation, temperature resistance of 180°C, lower noise, better insulation and is anti-rust and anti-corrosion.
Dimension & Schematic Diagram (Unit:mm)
Rated Capacity
Overall size (A*B*C)
Installation Dimension (D*E)
Weight of Aluminium Wire Transformer
Weight of Copper Wire Transformer
Open Type
Protected Type
Open Type
Protected Type
2 kVA
240*155*255mm
130*115mm
20 kg
28 kg
26kg
36kg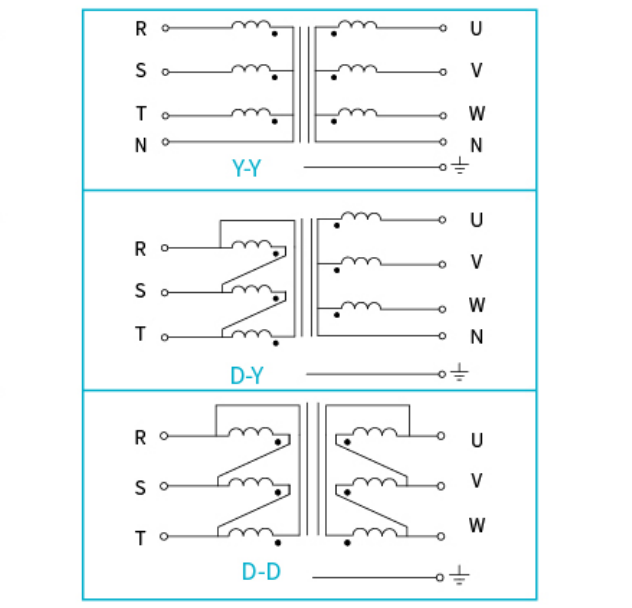 KNOWLEDGE BASE --- The Importance of Silicon Steel Sheet for Transformers
Silicon steel sheets are regarded as the primary material to form transformer core as for transformers. Silicon steel is a kind of steel that contains silicon and its silicon content ranges from 0.8% to 4.8%. Why should transformer cores be made of silicon steel? This is because silicon steel is a magnetic material with strong magnetic conductivity. It can generate a large amount of magnetic induction in current coils. Then the volume of transformer can be reduced.
The power loss of transformer in the communication state happens not only in the resistance of coil, but also in the iron core under the magnetization of alternating current. Generally speaking, the power loss in iron core is called iron loss. The iron loss is caused by two factors: one is hysteresis loss and the other is eddy current loss. Hysteresis loss is the iron loss that occurs in the process of magnetization of iron core due to the presence of hysteresis. The magnitude of this loss is proportional to the size of the area enclosed by the hysteresis loop of the material. The hysteresis loop of silicon steel is narrow and when silicon steel is used to make transformer, the hysteresis loss of iron core is small, which can greatly reduce the heating.
When the transformer is in operation, the magnetic flux generated by the alternating current in the coil is alternating certainly. The changing magnetic flux induces current in the iron core. The induced current generated in the iron core circulates in a plane perpendicular to the flow direction, so it is called eddy current loss, which also causes the iron core to heat up. In order to reduce the eddy current loss, the iron core of transformer is laminated with insulated silicon steel sheets. The eddy current passes through a smaller section in a long and narrow circuit to increase the electric limit of the eddy current circuit. At the same time, the silicon in the silicon steel increases the resistivity of material and also has the effect of reducing the eddy current.
All in all, silicon steel sheet plays an important role in transformer and determines the lifespan of transformer.