High voltage DC contactor features 150A rated load current of contact, 1NO (SPST-NO) main contact, switching voltage up to 12V~900V. High stability DC contactor relay comes with optional auxiliary contact 1NO and energy-saving board to save power, longer service life, compact size and easy installation.
Features and Benefits

150A contact switching capability, 1000V DC contactor with max. switching voltage 900V DC.
The high voltage DC contactor has a set of normally open bridge contacts (screw type) and the contact loop is non-polar.
Ceramic brazing technology is adopted, contacts will not be oxidized and can be quickly cut off at DC high voltage.
Compact size and light weight, sealed structure for main contact, suitable well for working continuously in harsh environment.
Flexible installation and 12V/ 24V/ 48V DC various coil voltages are available to meet the various needs.
Low coil power and energy-saving type DC contactor. Max. coil maintain power is up to 1.8W.
Optional coil lead length 150mm or 390mm or other customized length.

Application: Telecom equipment, solar system, engineering machinery, electro mobile, electric vehicle, charging system, train, ships, UPS, etc.
Lead time: 22~25 days, MOQ: 3 pieces. For similar unit with shorter lead time and MOQ-1, please visit at 150 Amps High Voltage DC Contactor.

Technical parameters
| | |
| --- | --- |
| Model | PEACO-DHV150 (energy saving type) |
| Contact form | SPST-NO, 1NO |
| Rated load current of contact (at resistive load) | 150A |
| Max. switch current | 2000A (320V DC) 1 time |
| Switching voltage | 12~900V DC |
| Contact voltage drop | ≤ 80mV at 150A |
| Standard pick-up time (including contact bounce) | Max. 30ms |
| Contact bounce time | Max. 5ms |
| Release time | Max. 10ms |
| Vibration (sinusoid, 80~2000Hz, peak) | (80~2000)Hz, ≤20g |
| Shock (11ms, 1/2 sinusoid, peak, pick-up) | ≤20g |
| Working temperature | -40℃~+85℃ |
| Storage temperature | -40℃~+65℃ |
| Relative humidity | 20%~90%RH |
| Insulation resistance | Min. 100mΩ at 500V DC |
| Dielectric strength (between insulated electric parts) | 2200V AC 50Hz/60Hz (1 minute), 1000VAC 50Hz/60Hz (1 minute) (between aux. contacts) Leak current<1mA |
| Mechanical life | 300,000 times |
| Auxiliary contact arrangement* | 1NO |
| Rated load of auxiliary contact | 2A/24V |
| Working duty | Continuous |
| Certification | RoHS, CE |
| Item weight | About 250g |
Coil Data
Model
Coil voltage*
Coil operating voltage
Pick-up voltage
Release voltage
Starting current
Maintain current

PEACO-DHV150
9~36V
9~36V
8~9V
5.5~7V

3.8A
0.18A at 12V, 0.09A at 24V
32~95V
32~95V
29~31V
23~25V
1.3A
0.03A at 48V
DC Contactor Relay Dimension (Unit: mm)
DC Contactor without Aux Contact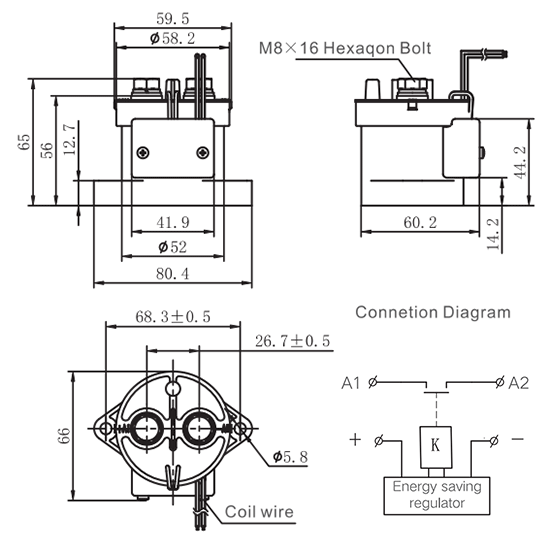 DC Contactor with Aux Contact