250W grid tie inverter with with a optional data collector for sale, featuring 250 watt rated output power, 24V/ 48V DC to 220V/ 230V/ 240V AC micro inverter for one piece of 250W solar PV panel, filled with silica gel, IP67 protection class, efficient maximum power point tracking (MPPT) and high performance and conversion efficiency. Working up to 5 meters underwater is available.
Features
250W grid tie inverter can work with a data collector/ energy conllect device (ECD) that can obtain the working information of the micro inverter and can also monitor the inverter operation with the network.
The micro inverter comes with high quality shell, anti-radiation wire, waterproof connector and is filled with silica gel.
Solar micro inverter features first-class waterproof performance, efficient maximum power point tracking (MPPT), high conversion efficiency, automatically adapts to the grid frequency and provides power line carrier function.
Specification
| | |
| --- | --- |
| Model | Psun-250G |
| Recommend PV modules | 250W×1pcs |
| Maximum DC Input Voltage | 60V |
| Operation Voltage Range | 20V~55V |
| Maximum Input Current | 10.4A*4 |
| Rated Output Power | 250W |
| Rated Output Current | 1.1A |
| Rated AC Voltage Range | 183V~264V |
| Rated AC Frequency Range | 50Hz/ 60Hz Auto |
| Power Factor | >99% |
| Efficiency | 95% |
| Communication | Power Line Carrier |
| Protection Class | IP67 |
| Environment Temperature | ﹣40℃ ±65℃ |
| Dimensions (W*H*D) | 215*137*30mm |
| weight | 2.0 kg |
| Optional Accessories | Data Collector (ECD) |
| ECD Voltage | 90V~140V/180V~260V |
| Certificate | CE, VDE, TUV, ETL |
| Design Life | 30 years |
| Warranty | 5 years |
Data collector / data acquisition unit is a bridge to connect the model of micro inverter and the network or PC. One data collector can monitor 160 IDs, namely 160 PSUN-250G, 80 PSUN-500G or 40 PSUN-1200G. The data collector comes with LCD display and control buttons for users to check the micro inverter operation at any time.
Schematic Diagram of Grid-connected PV System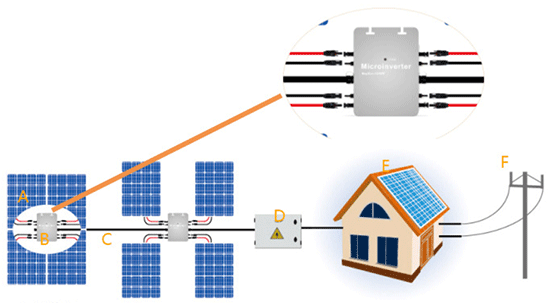 A: Solar panels В: Grid inverter C: AC cable D: AC power distribution box E: Electricity unit F: Low-voltage power grid
Description: Solar panels are connected to one solar grid tie inverter. This micro inverter draws power electrical energy from the solar panels through maximum power point tracking (MPPT) function. After high-efficiency inverter conversion, the DC power of the solar panels is converted into AC power. The high frequency modulation and zero-phase offset technology are used to synchronize the connection with the solar micro grid and finally to realize the transmission of electric energy to the grid.