300A emergency power off switch is a high voltage emergency switch, featuring 750V (Max.) rated voltage, SPST-NO, continuous working. The quality is certified with CE, easy to install, convenient to use. High performance emergency power off switch for electric forklift truck, etc.
Features
1. metal screws. The emergency switch is equipped with metal hardware screws, galvanized process, anti-corrosion, anti-rust, longer service life.
2. Metal contact plate. The inside of the emergency power off switch adopts a metal contact plate, which conducts electricity quickly and responds quickly.
3. Sturdy casing. The high voltage emergency power switch comes with strong case, is durable, not easy to be damaged and the quality can bear the test.
4. Reliable manufacturing with precision process. The round corners are smooth and not rough enough and the workmanship is meticulous and perfect.
Applications
The emergency power-off switch adopts the mechanical limit design and uses the red mushroom head handle to control the on and off of the switch. The emergency power off button has a compact structure and reliable contact, is widely used in DC power systems, such as battery cars, electric forklifts, electric vehicles and excavators, etc. for disconnecting the power supply in an emergency to prevent the accident from spreading and spreading.
Specification
Physical Performance
Model
PEACO-DK300H
Weight
385g
Dimension
161*31*183mm
Certification
CE, RoHS, IS9001
Warranty
1 year
Technical Parameters
Contact Circuit Rated Load Current
300A
Rated Voltage
750V (Max)
Contact Resistance
≤ 50mΩ
Insulation Resistance
≥ 50mΩ
Dielectric Withstanding Voltage

50Hz/60Hz 1000V AC/1min

Working Specification
Continuous working duty

Overload Current
≤ 7Ie, ≤ 1s
Contact Form
1 NC
Mechanical Life
100,000 times
Electric Life
10,000 times

Contact Material

AgCdO/AgCuO
Performance Characteristic

Closing Force

30N≤F1≤50N

Disconnecting Force

30N≤F2≤50N

Use of Environment
Altitude
≤ 2 kW
Installation Way
Any
Temperature Range
-25℃~70℃
Protection Grade
IP50
Vibration
2.5g, 5Hz-50Hz
Impact
50g, 11ms (Half-sine wave)
Emergency Switch Installation Diagram (Unit: mm)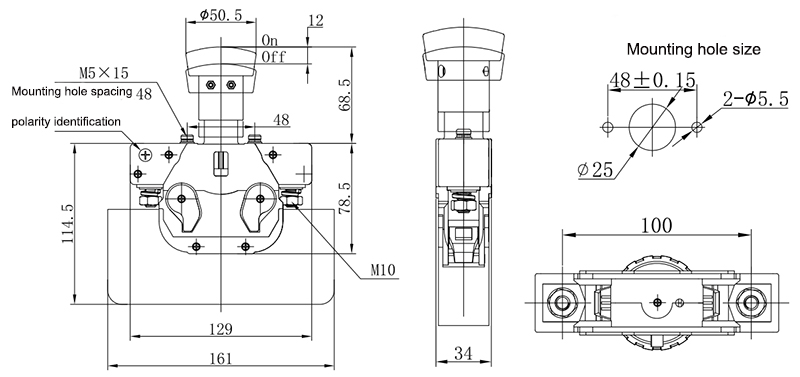 Emergency Power Off Button Wiring Diagram